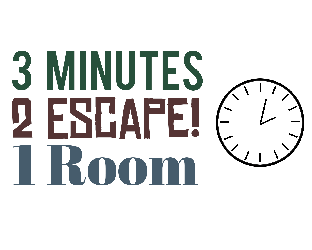 3 Minutes 2 Escape 1 room
A downloadable game for Windows, macOS, and Linux
Summary:
3 Minutes 2 Escape 1 Room. A game where you have 3 minutes to escape 1 room. The game's puzzles are procedurally generated making each escape a new challenge. This game was created as part of Qazi jam 9 and is also my submission to the ludum dare 37.
This was my first time ever participating in a game jam as well as my first time streaming my work so it's a little rough around the edges but I learned a lot about creating procedural generation systems and the embarrassment of messing up my project while in front of people on stream.
If you happen to record/stream yourself playing I'd love it if you could let me know cause I'd love to see it =)
#LudumDare #LDJam #altgame #puzzle #procedural
---
How to Play:
To move around the room, use either your "W,A,S, and D" keys (or your the arrows keys)
To interact (pick up) objects, use either your "E" key or the left mouse button
To Pull out drawers, use either the left mouse button or the "E" key.
To push in drawers, use the right mouse button.
---
KNOWN BUGS:
-When displaying your final time, the last second gets cut off
-The cursor can be inaccurate (It's a filthy liar!)
-Global illumination isnt functioning (It's being a little rascal when I do a final build :/)
---
Credit to (Art and SoundAssets I used):
TV / arm mount 1.0 - Kobra Game Studios
Cinematic Image Effects 1.1 - Unity Technologies
Hospital Horror Pack 1.0 - ForJofmay
Lamps Pack 1.0 - Nova shade]
Pack Gesta furniture #1 - Gesta 2
TV Furniture 1.0 - Enozone
Sink, Toilet and Radiator Set 1.0 - Lea Lickiene
Chest of Drawers 1.0 - Ciconia Studio
HQ Modern Armchair - Max Ocklze
Modern Sofa 1.0 - Rendwork Studio
standard assets 1.1.2 - Unity Technologies
Download
Click download now to get access to the following files:
3Minutes2Escape1Room_Alpha1.0_32Bit.zip
34 MB
3Minutes2Escape1Room_Alpha1.0_64Bit.zip
35 MB
3Minute 2Escape1Room_Alpha1.0_OSX_32 Bit.zip
37 MB
3Minutes2Escape1Room_Alpha1.0__OSX_64 Bit.zip
37 MB
3Mintutes2Escape1Room_Alpha1.0_Linux_32 Bit.zip
37 MB
3Mintutes2Escape1Room_Alpha1.0_Linux_64 Bit.zip
37 MB
3Minutes2Escape1Room(Source).zip
348 MB