Jelly Brawl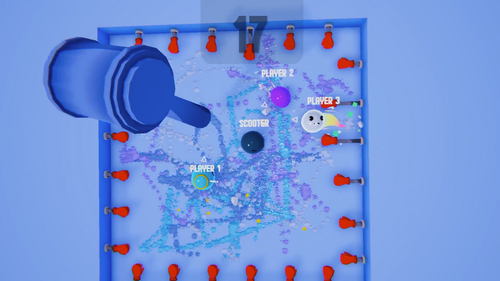 Jelly Brawl Out Now on Xbox!
Today I'm launching the day 1 update to celebrate the upcoming release of Jelly Brawl on Xbox!
It contains plenty of bug fixes across the whole game. Pick up the game on Xbox today:
https://www.xbox.com/en-us/games/store/jelly-brawl/9nxzrq9x1kmc
In this Update
- Fix Returning to menu from race cause the UI is hidden
- Fix joining room that has just played a game shows "game over"
- Fix "No boss" mode in custom
- Fix the title sprite animation after pressing start
- Fix online names with spaces incorrectly displaying
- Hit & Run, Make shops cheaper
- Play sound effects only on forward ticks (water, saw, etc.) networking
- Make effects only play on forward tick networking
- Fix security look laggy in Hit & Run
- Call physics wakeup on players every 1 second (Fix them avoiding conveyors and moving platforms if not moving since start)
- Player disconnect fix
- Fix Saw blade is broken in level editor when placed and saved
- Fix bombs not pushing people
- Fix Colliding with powerup at same time as another player
- Fix some AI boss rounds failing to end
- Fix game over text after every round on client (Should say round loss or win)
- Other general fixes
Love you.
Thanks for playing,
- Cole
Files
Jelly Brawl 1.6.3 (Linux)
170 MB
10 days ago
Jelly Brawl Classic 1.6.3 (Mac OS)
10 days ago
Jelly Brawl Classic 1.6.3 (Linux)
170 MB
10 days ago
Jelly Brawl 1.6.3 (Mac OS)
151 MB
10 days ago
Jelly Brawl 1.6.3 (Windows)
145 MB
10 days ago
Jelly Brawl Classic 1.6.3 (Windows)
145 MB
10 days ago